GoOpti is a transportation marketplace start-up. It provides innovative matching of passengers for shared and private transfers between airports and remote cities.
The business is now fast-growing and demand-responsive, but it wasn't always this way. GoOpti turned to Abelium to find solutions for their growing pains. We responded and created a multi-award-winning solution that is loved by users and transportation companies alike.
In cooperation with GoOpti we have digitally transformed an existing transportation company into a digital mobility marketplace that in part already uses building blocks of platform business models.
The challenge: Becoming a mobility marketplace
GoOpti had a vision of transforming its transportation business model into a mobility marketplace, offering services between medium sized cities and distant airports (50-300km away). A transformation like this demands an advanced digital solution based on mathematical models, a change in business model, advanced analytics, and other innovative changes.
At first, GoOpti struggled to find a reliable partner who would help them through every stage of their journey. With Abelium, they received the support and solutions that they needed.
Digital transformation

Digital transformation

Enabling faster growth in international markets (2+ mio passengers, 1.000+ passengers a day, 100+ companies, 650+ vehicles).

Business model

Platform business model

The digital marketplace saves passengers on average 1 hour and 80 EUR per trip.

Environment

Environmental protection

We reduced CO2 emissions by 18,000 tons with the mobility marketplace, replacing 38,000 personal rides.

Happy customer

User experience

Above 93% of customers are satisfied with the digitally renewed services.
The solution: SaaS platform with intelligent cloud-based services
During the project, we consulted on and developed:
SaaS digital transportation marketplace platform,
mathematical optimization for improved matching system,
end-to-end system for organizing transportation,
advanced analytics for modeling prices,
key aspects of the new platform's business model.
It is an end-to-end solution. We supported GoOpti with the initial research, technical execution, and the development of a sustainable business model.
Mobile app

A simple mobile application for passengers.

Mobile app

Digital marketplace

Digital marketplace frontend, including user interface.

www.goopti.com

Transport organization tools

Mobile application for drivers.

Mobile application for drivers
As part of the digital transportation marketplace, we launched a mobile app for end users, a mobile app for drivers, and a platform for managing the marketplace. This included:
an advanced search and matching system between suppliers and customers,
a multilingual platform,
an accounting and payment system for accurate payment allocation among different stakeholders,
an advanced optimization system for planning and optimizing logistics,
dashboards for data-driven management,
automatically generated reports.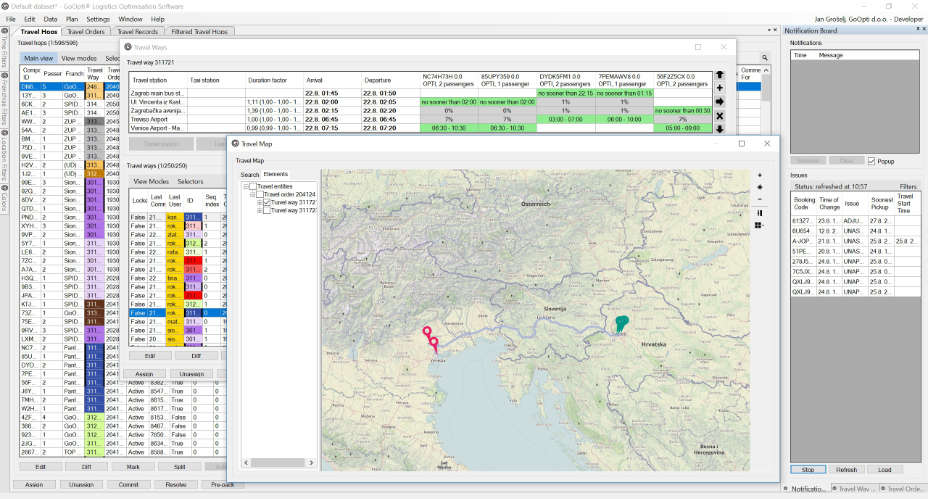 The result
With our solution in place, GoOpti successfully entered new markets and achieved a high user-satisfaction rate of 93%. Based on their data, the average user saves 80 EUR and 1 hour of time per trip while traveling in a sustainable way. In fact, since the beginning of the project, we've cut CO2 emissions of airport transportation by 18,000 tons, replacing 400,000 vehicles on the road.

If you'd also like to implement your vision in a digital, smart, and sustainable way, get in touch and let's discuss the possibilities.
We received multiple awards
The innovative GoOpti business model was awarded at the 8th Slovenian Innovation Forum (MGRT, SPIRIT). GoOpti also received the Startup of the Year 2015 (CESA award), the Eurocloud Europe Award (Best Business Impact Achieved by Cloud Services in Europe) and the Eurocloud Slovenia Award (Best Example of the Use of Cloud Services in the Economy in Slovenia). Furthermore in 2017, GoOpti received a silver national award for a digitally renewed platform business model for entering European markets (GZS, MGRT, SPIRIT).
For the innovative strategy of internationalization into new European markets, GoOpti (together with its partner, Abelium d.o.o.) was the recipient of two SME Champion awards given by the European agency EASME, and in June 2016 it also received the European project SME-Phase2, awarded by EASME only to the most innovative SMEs in the EU.
GoOpti's innovative strategy to expand into foreign markets was also supported by a venture capital investment led by the EBRD.
Project partners
GoOpti B.V., Netherlands
GoOpti d.o.o., Slovenia
Similar projects
PLASMA - A project for developing a banking and trading platform, upgraded with an innovative connection between the financial, fintech, and crypto worlds.
EDISON WINCI - A project for developing the infrastructure, competencies, and elements of business models for logistical systems of contactless-charging electric vehicles.