Operation SOPOS - System for Limiting Transmission of Infections in Buildings has been approved for financing on the public tender "R&D projects to eliminate the consequences of COVID-19", announced by the SPIRIT Slovenia, public agency.
The investment is co-financed by the Republic of Slovenia and the European Union from the European Regional Development Fund - EU ERDF under the context of the Union's response to the COVID-19 pandemic in colaboration with the Ministry of Economic Development and Technology - MGRT and the SPIRIT Slovenia, public agency.
We are addressing the development of the most efficient and cheapest automation and digitization of the entire process, enabling hospitals and other institutions to provide (implement) the best non-medical infection prevention.
The main, enabling part of the future SOPOS solution is the SGATE solution, which received the silver award for innovation at the national level 2020. SGATE, Robotina's existing solution as a consortium carrier, will use digital keys and sensors to automate all access and retention procedures in the building, capture all data from a variety of sensors and transfer data to the 4S cloud platform. The data will be available in real time to the SRCInfonet information systems, which will take care of the digitization of procedures, reception and ordering of patients and visitors. Based on the obtained data, the consortium partner Abelium will build advanced optimized algorithms for determining the optimal, safe path of an individual patient or visitor from the entrance to the building to the selected room in the building.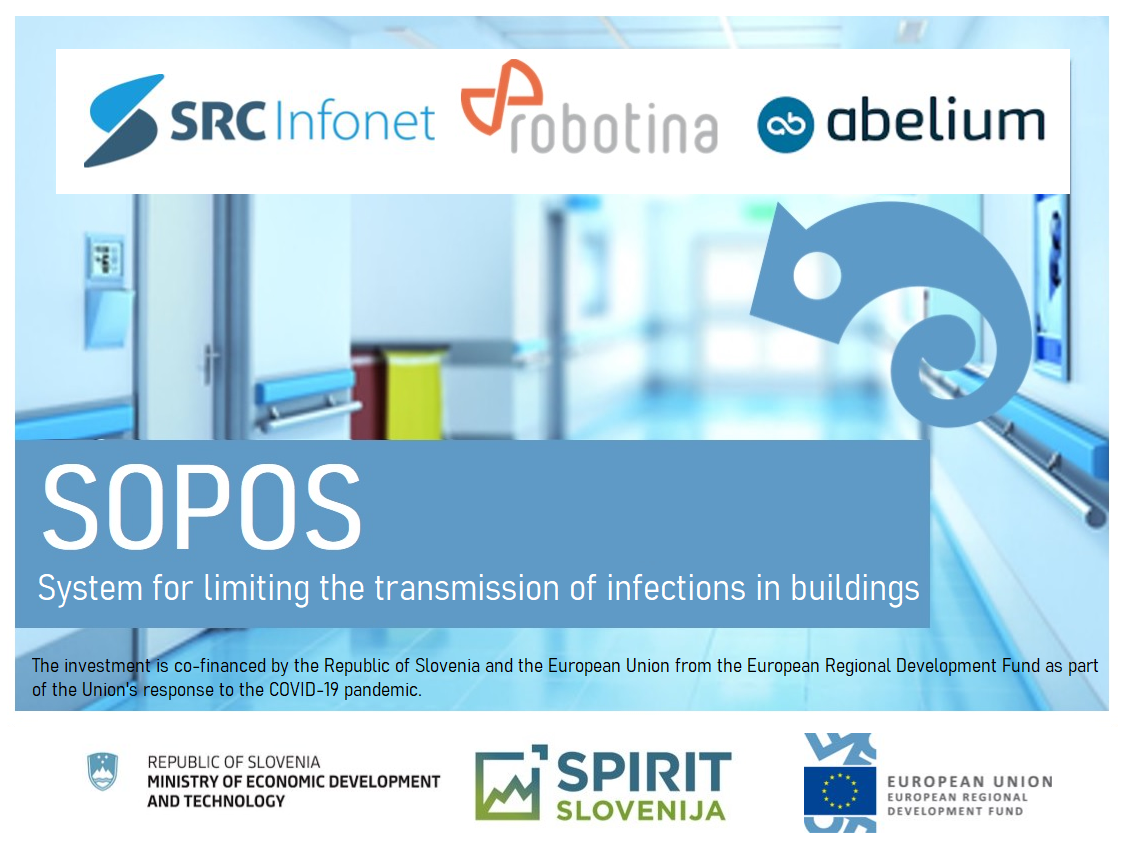 Main goal of the operation
The integrated SOPOS solution will help to improve and manage the access and ordering process, relieve and reduce staff costs, and at the same time save time for patients and provide a more user-friendly experience through the digitalization of the ordering process.
The aim of the operation is to develop a new product with high innovation and high market potential.
Partners
Robotina d.o.o., lead partner
SRC Infonet d.o.o.,
Abelium d.o.o.
Similar projects
Kumuluz Crowdsensing - Researching new technologies for automatic data collection and the measurement of crowd data
KumuluzAPI - Establishing an API ecosystem of smart cities and communities